This post is also available in:

German
Meister Frantz: A Match Made in Jail (Hangman of Nuremberg Vol. 1)
Free imperial city of Nuremberg 1580: As the hangman of the Free Imperial City, Meister Frantz Schmidt is used to being avoided by society for fear of getting tainted by his dishonorable profession. Only the ailing believing in the executioner's special healing powers come to him. Then one of his patients is murdered and her maid Kathi becomes the main suspect. When Max, one of the city's archers, begs Frantz to help spare the girl from torture and his executioner's sword, the hangman's conscience rebels against the thought of inflicting pain on an innocent girl and possibly having to kill her. Frantz comes up with a scheme to keep the maid safe for a little while, but it's risky for him and his new allies.
Can Frantz deceive the council of Nuremberg and find the true murderer in time before he might be ordered to hang himself?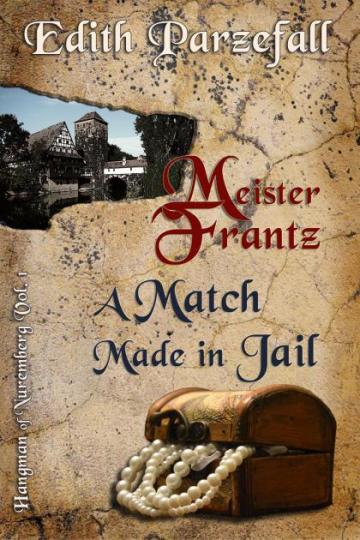 Meister Frantz and the Devil's Nightshade (Hangman of Nuremberg Vol. 2)
Free imperial city of Nuremberg 1581: Meister Frantz never meant to get involved in an ongoing investigation again. But who'd be better qualified to tell whether Anna Presiglin really hanged herself than the hangman of Nuremberg? Just in time before the corpse is burned, town guard Max Leinfelder gets the executioner's take on her demise: a blow to the neck.
Who killed her before stringing her up: the husband, the lover or the robbers roaming the area? Only one thing is certain: Meister Frantz will be busy. Then the victim's body disappears, horses get stolen and husbands find themselves on errant paths. Max hardly knows who he should chase first. Solving this complicated case even requires his wife Kathi to join in the hunt as a secret scout of the city council, a position both well-paid and dangerous.
Meister Frantz and the Curse of the Blood Rubies (Hangman of Nuremberg Vol. 3)
Free imperial city of Nuremberg 1582: Meister Frantz is called to a case of rape, not as executioner, however, but as a discreet healer—a situation he's not comfortable with at all. Clara, the fourteen-year-old maid of an embroiderer, refuses to press charges. With the Easter holidays coming up, the authorities are mostly occupied with preparations for the election of the inner council anyway.
Despite these obstacles, Frantz can't just leave a rapist at large in his city. Who is the girl trying to protect, and why?
Rape, deception, robbery, arson and a polyhedron by Wenzel Jamnitzer—all connected by the threads of family bonds.
This post is also available in:

German