This post is also available in:

German
Strays of Rio: A Thriller
Lisa Kerry witnesses a private death squad attack street kids close to her bookstore. When the police take no action, she vows to purge Rio of the ruthless killers. To keep him out of the line of fire, she must quell her affection for the one man cut out to exorcise the demons of her past. Drawing strength and rage from the abuse she suffered as a young girl in a juvenile detention center, Lisa closes in on her marks. Unable to get to the rich and powerful leader of the recreational killers, she enlists the older brother of one of her street urchin friends—a drug lord. Lisa's pursuit of justice spirals into a violent struggle to survive, for herself, her young charges, and the man she loves.
Feel like escaping to Rio with me? Read the opening pages at Amazon.
Crumple Zone: Psychological suspense unfolding in Chile's Atacama Desert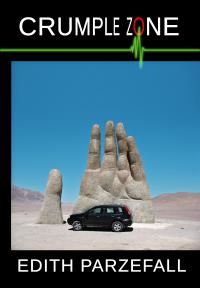 Lara, a workaholic from Seattle, loses her job, drowns her frustrations in scotch, and books a trip to Chile. Instead of facing her messed up life, she escapes to South America and hooks up with a backpacker, whose bag of tricks conveniently distracts her.
Hauling freight along the same route, trucker Enrique battles the loneliness of the Atacama Desert, imagining his wife by his side. If only she'd stop urging him to come home. With growing unease, he sets off on the return trip. When his path crosses Lara's, the impact knocks them both off their errant tracks to face real life.
Background:
This novel was inspired by a real accident my partner and I had toward the end of a fantastic road trip through the Atacama Desert in 2008. We actually made the front page in a local newspaper. The star of this adventure was certainly our rented X-Trail:
| | |
| --- | --- |
| Before: | After: |

Adventure Trek 1: Caution: Slippery
Caution: Slippery is an action adventure with a pinch of road-movie, a twisted love story and a straight one, a homeopathic dosage of cute children and lots of girl power–not always put to the best use. Not to mention the psychotic hero who isn't really an Apache.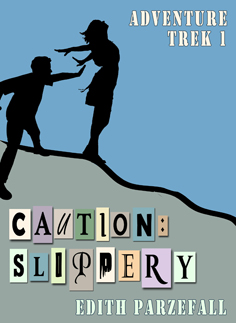 Karo Schenkenberg runs her own company with a firm hand, too firm according to her employees. For her birthday, they present their formidable boss with a team building adventure trek. Too proud to turn down the challenge, Karo heads for the mountains.
Martin Sander leads the adventure treks and loves to play master and commander of arrogant city slickers. When he locks horns with Karo, he enjoys her prickliness and anticipates the best tour ever. Little does he know the reluctant soon-to-be-ex-husband of his new girlfriend Jo has signed up for the hike as well. Hans is an Afghanistan veteran struggling to get a grip on his crumbling life. First step: get Jo back.
Adventure Trek 2: Caution: Wet
In the sequel Caution: Wet, Martin and Karo's paths cross again during a stormy January night. Could the tour guide sprung from her nightmares really be the solution to Karo's problems?
After she insulted her biggest customer, Karo's company is in trouble. With no money to squander, she'd still love to send her widowed brother-in-law and his new bride on a fairy tale honeymoon. When a storm blows Martin Sander back into Karo's life, his unexpected inheritance from unknown sources allows them to lure the newlyweds to his finca on Tenerife at low cost. At the same time, a bunch of Senegalese refugees head for the Canary Islands.
Karo's attempt at playing fairy godmother works like a charm until another storm moves in, blowing the refugees off course and endangering the lovers. Can a trip organized by the infamous tour guide ever go right?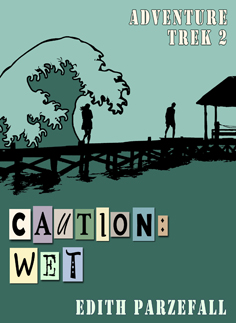 Filled with chaos, drama, tension and banter, Caution: Wet stands alone but builds on the lively characters of the first book in the Adventure Trek series.
This post is also available in:

German